Company History
Ponderosa Realtors Founded in February 1994.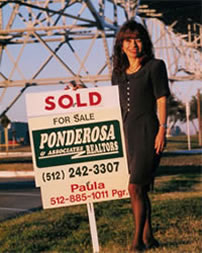 Paula took over the company after the loss of her partner, Martin Garcia, in 1995. Since our inception we have strived to consistently implement the Highest Standards & the best tools available in our Quest to provide Quality service to Our Customers.
In August of " The Year of Our Lord " 2000 Paula obtained her Texas Mortgage Brokers License. Paula began her mortgage brokerage with Apex Lending, Inc for 7 years. In August 2008 Paula set up Alcala Investments, a division of Ponderosa & Associates Realtors for the purposes of educating & assisting her customers with their financing needs
Honesty Integrity Commitment
We Stand By Our Motto
May The Lord In All Ways Bless You!